SEYCHELLES / Presidential election 2015 – second round: Michel wins again
James Michel                       50.15%
Wavel Ramkalawan               49.85%
James Michel has won the second round of the presidential election to be re-elected for a third and final five-year presidential term and he has dedicated this victory to the Seychellois people whom he has vowed to serve.
The Parti Lepep leader polled a total 31,512 or 50.15% of the popular vote to beat Wavel Ramkalawan of the Seychelles National Party (SNP) who got 31,319 or 49.85%.
The margin of victory is 193 votes and this has decreased compared to 2011 when it was over 8,000.
Mr Michel, who succeeded France Albert René as President upon the retirement of the latter in April 2004, was first elected to the highest office in July 2006 and was re-elected in May 2011 and now for a third time in December 2015.
"The people have spoken and made their decision. They want to continue on this same path of progress. This election has tested the political maturity of Seychellois democracy and after not one candidate could get the majority in the first round, we did in the second," said President Michel who has thanked all his supporters, activists for all their hard work.
He also focused on the need for all to work together for the benefit of our country Seychelles.
After the announcement of the result, Parti Lepep supporters took to the streets to celebrate victory and President Michel has said they will organise a motorcade today starting at 1.30pm.
A total of 70,943 people were eligible to vote in all the 25 electoral areas to choose who between incumbent President James Michel ofParti Lepep and former leader of the opposition in the National Assembly Wavel Ramkalawan of the Seychelles National Party will occupy the country's highest office.
The total number of votes cast was 63,893 and the total in favour was 62,831. Therefore, a total of 1,062 votes were not in favour. The voter turnout was 90.1% and Les Mamelles had the highest turnout of 96.5% or 2,324 in a voting population of 2,408.
The Inner Islands with a voting population of 1,989 saw only 1,511 cast their votes as this was the lowest percentage of 76% among all 25 districts, but coincidentally it is where Parti Lepep pulled off its biggest score of 69.97%.
Mr Michel won in 13 districts – Anse Aux Pins, Anse Boileau, Anse Royale, Baie Ste Anne, Cascade, English River, Grand Anse Mahe, Grand Anse Praslin, Inner Islands, Pointe Larue, Port Glaud, Roche Caïman and Takamaka.
As for Mr Ramkalawan he won in Anse Etoile, Au Cap, Baie Lazare, Beau Vallon, Bel Air, Bel Ombre, Glacis, Les Mamelles, Mont Buxton, Mont Fleuri, Plaisance, and St Louis.
Mr Ramkalawan registered his biggest score – 58.79% – in St Louis.
For Mr Ramkalawan this was the fifth unsuccessful attempt to capture the State House after also suffering defeats in 1998 (to former President France Albert Rene), 2001 (to former President France Albert Rene), 2006 (to incumbent President James Michel) and 2011 (to incumbent President James Michel).
He described the election as an "auction" as he said "it was a matter of how much was paid out to voters".
Mr Ramkalawan, who said that he does not accept the results of this election, explained that all these irregularities have been placed before the electoral commission.
This is also the first time in the history of Seychelles that a president is elected into office after a run-off.
After none of the six candidates got the required 50 percent plus one votes that was needed for an outright majority during the first round of voting from December 3-5, a second round was needed to decide between the two highest vote getters
Mr Michel got 47.76% in the first round and Mr Ramkalawan 35.33%.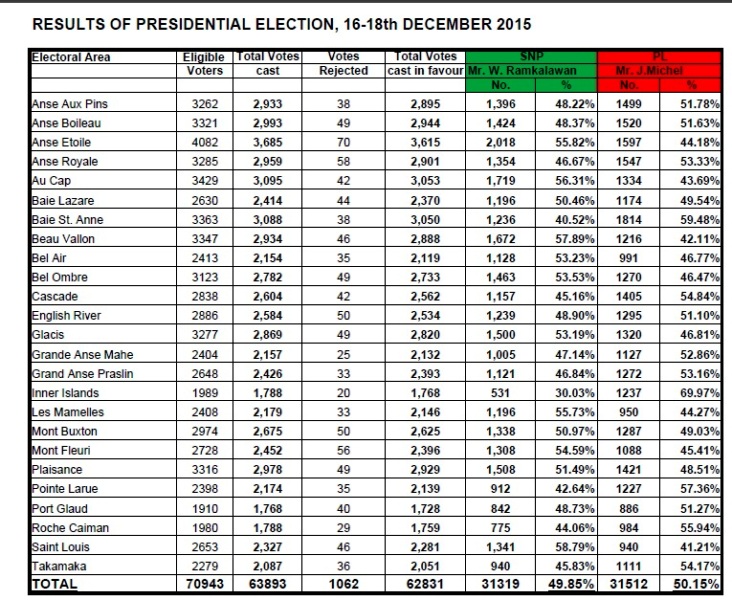 Source : http://www.nation.sc
Seychelles Nation (Seychelles)